Asia Library Reading Room
A mixture of seating and the Oka Tadoku Room make up this cozy, light-filled space.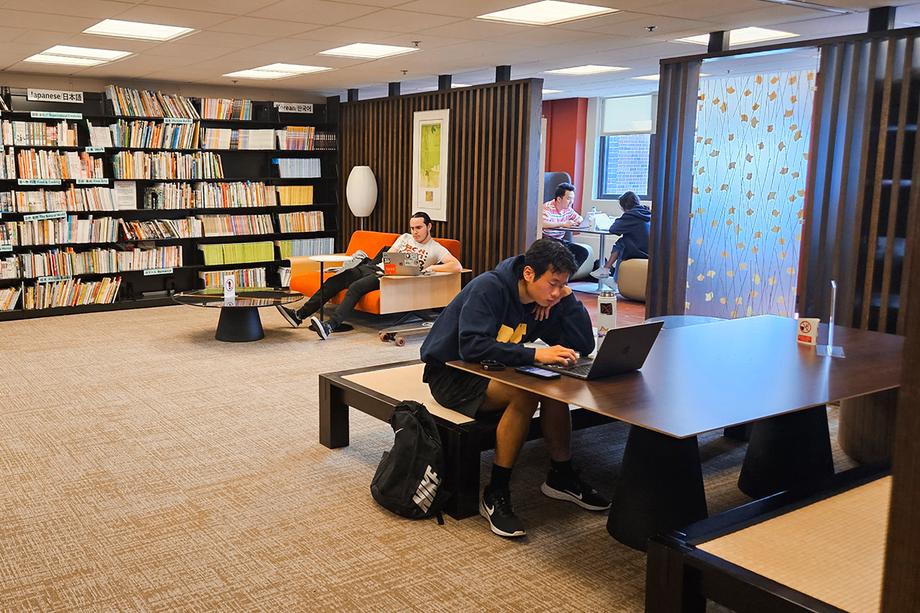 The Asia Library Reading Room has a few distinct areas in one space: the Oka Tadoku Room, Asia Library Reference Area, and Asia Library Quiet Study Room.
Features include study desks, comfortable booths, and open tables. Lots of natural light fills the space and bookshelves line the walls.
While this is generally a quiet space, there may occasionally be conversation and noise when classes or events are held in the Oka Tadoku Room.
Oka Tadoku Room
A dedicated space for the practice of tadoku, or "extensive reading," a method of language learning that relies on reading a large volume of varied materials.
Surrounded by rich, wooden slat walls, this space within the reading room features a large table with tatami benches, luxurious swivel chairs, Japanese-style low tables, and paper lamps.
Read more about the creation of the room. 
Asia Library Reference Area
This area encircles the Oka Tadoku Room and continues into the Asia Library Quiet Study Room. Study desks and comfortable booths are found along the windows.
Asia Library Quiet Study Room
Lined with reference books in East Asian languages and furnished with two large tables, this room provides an oasis of quiet, especially when the adjoining room is abuzz with a language class.