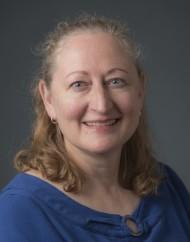 Pronouns
she/her/hers
Email
karsendi@umich.edu
Phone
734-615-3958
Office
2178 Shapiro Library
Mailing address
Shapiro Library Room 2178
Ann Arbor, MI 48109-1185
ORCID ID
0000-0001-8307-3210
About me
I serve as the project lead for various initiatives within the Learning & Teaching division. I collaborate with students and faculty on their library research through Ask a Librarian services, serve as the content manager for the Library's Research Guides, and manage the Tiny Studies blog, a site that shares Library staff members' experiences with assessment and research. Temporarily, I contribute to library media services support, and I serve as a member-at-large on RSS.
My personal research interests include virtual reference services, library technologies, change leadership, and library assessment/evaluation.
I received a MILS degree from the University of Michigan School of Information, and a BA degree in German Language & Literature, from the University of Toledo. My leadership positions range from head of reference services, coordinator of library automation, manager of a branch library and computing lab, digital services librarian, to director of user information and discovery services. Presentation and publication topics include reference services, assessment of reference collections, information literacy, web content creation, creation and discovery of digital learning objects, library systems and public computing, technologies including ticketing systems, and staff development and mentorship. Additional details can be found in LinkedIn, SlideShare, and ORCID. 
Languages
English
My links