Evyn Kropf
Librarian for Middle Eastern & North African Studies and Religious Studies; Curator, Islamic Manuscripts Collection
International Studies
· Research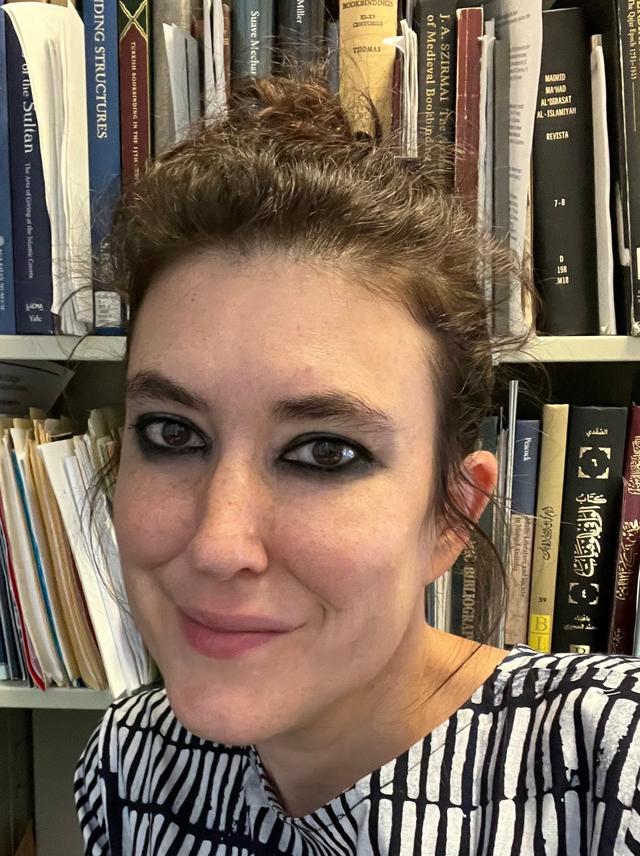 Pronouns
she/her/hers
Email
ekropf@umich.edu
Mailing address
M117B Hatcher North
Ann Arbor, MI 48109-1190
ORCID ID
0000-0002-1111-3532
Evyn Kropf
Librarian for Middle Eastern & North African Studies and Religious Studies; Curator, Islamic Manuscripts Collection
International Studies
· Research
About me
I teach, offer research guidance, and develop collections integral for representative scholarship related to the communities, cultures and languages of the Middle East (Southwest Asia), North Africa and their diasporas, as well as for the multidisciplinary study of religion. I also curate the Islamic Manuscripts Collection in the Special Collections Research Center (SCRC) and lead workshops on Islamic manuscript culture.
My research interests center around Islamic codicology and Arabic manuscript culture with a focus on writing material, structural repairs, reading and collecting during the Ottoman era, as well as the significance of pictograms and other visual content for Sufi knowledge transmission.  
I have a bachelor's degree in Materials Science and Engineering from the University of Tennessee, Knoxville (2003) and a master's degree in Information Science from the University of Michigan, Ann Arbor (2009) where I also studied Islamic history / Arabic historiography, Classical Arabic, and Ottoman Turkish. I lived and studied for several years in Amman, Jordan and have trained in manuscript studies and book structures with Adam Gacek and Julia Miller. From 2009-2012, I led the descriptive effort which realized the detailed cataloguing of 904 Arabic, Persian and Turkish manuscripts preserved in the SCRC.
Languages
English, Arabic, Ottoman Turkish, Persian
My links