Imprinted
December 8, 2022
One at a time, artist Marianetta Porter, professor emerita in the Penny Stamps School of Art & Design, presses delicate white tissues between the letterpress's printing plate, wet with black ink, and its platen. Each emerges with a different phrase that expresses sadness or grief — some her own statements of sorrow and heartbreak, some the sorrowful words of others.
"There's something kind of interesting about the idea of a Kleenex with a sad story on it that maybe would get used and then thrown away. There is some further metaphor here, like 'we gotta get rid of all this sadness!'" Porter said.

It's not Porter's first venture into art that engages everyday objects. In 2012, she received a Philip Jones Fellowship from the Ephemera Society of America to support a body of work focusing on Black church fans. Porter found that these church fans, freely available in the pews to provide relief from the heat during services, included a range of content, such as ads for Black-owned businesses, church schedules and other information, bits of scripture, and anecdotes and proverbs. 
Porter's own church fans are poetic meditations in text and imagery, imbued with her memories and impressions from everyday life in the Black community of her childhood in South Carolina.
Although her current work persists in these themes, the practice of printmaking is new to Porter. Her work in the library's Book Arts Studio began after her recent retirement, and she says her discovery of the letterpress, and the community of practitioners that help run it, could not have come at a better time. 
"This has been a godsend for me. I've met some really wonderful folks — students and other artists. And I have been learning from all these very knowledgeable folks at the library that are really, truly printmakers," she said. Now, she has a basic understanding of the letterpress and has begun to experiment with this new medium.
Like so much of her work, Porter's latest draws on her childhood experiences. The call of the letterpress, with its unavoidable focus on words, could be the echoes of her grandmother, a prolific storyteller. She recalls many a starry night spent listening, sometimes to the same story told and retold, and somehow never shared the same way twice.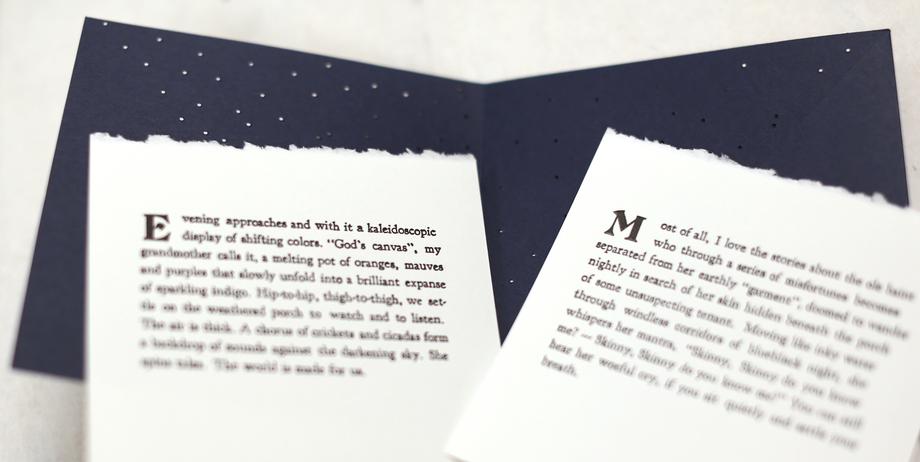 But not all of Porter's encounters with the power of language were happy ones. There was, painfully, inevitably, her first experience with overt racism.
"I was at a pool. I can still remember, it was a beautiful and hot sunny day. I jumped in the water, it was freezing cold and that sensation, you know, from hot to cold, was exhilarating," she said. "I came up and the moment I broke the surface there were two young boys at the other end of the pool, and they said, 'Get outta our pool you n****r' — I was shocked." 
It was the first time she'd heard that racial slur, and she wasn't sure at first whom the boys were speaking to. "This was the first time I realized that I was Black," Porter added.
She has now memorialized the incident in a poem, letterpressed in light blue text onto white paper. Alongside the words she mounted a single, pure white Lifesaver candy. The pairing of objects with words is Porter's way of exploring the various meanings that we attach to them. This particular juxtaposition might take your breath away.
Porter believes in the power of art to confront social injustice and marginalization, and to overcome differences. 
"My pursuits, in the studio and in the classroom, have been about breaking down barriers, expanding knowledge, and promoting understanding across divides," Porter said.
Given that, it's perhaps fitting that much of her work, though shot through with a sadness that edges up to despair, also proffers items that could bring relief: the drying of tears, a cooling breeze, an iconic piece of candy in the shape of salvation. 
From the artist, in her own words
I have always loved working with my hands. The joy of my creative practice comes in large part from the slow connection between body, hand and mind that can happen as ideas take physical form in the studio. After years of working three-dimensionally, I have come late to letterpress printing. It has allowed me to combine many of my passions and interests: my love of words, my fascination with objects, my interests in storytelling, and the intimacy of handcrafted work.
As a mixed media artist, a broad range of materials and processes inform my practice. I especially enjoy working with found objects...things that have a history or seem to have a story to tell. I have long been fascinated by the quotidian forms and meanings attached to such artifacts. Beyond their utilitarian purposes, I believe objects can be understood...as myths and as poetry.
My creative investigations are grounded in the study of African American history, culture and representation. These themes encompass various genres ranging from history and folklore to visual culture and social traditions. I am particularly interested in the ways these complex relationships are woven into the fabric of everyday life. Through the language of visual art, I seek to draw a correlation between historic memory and modern African American life. My creative investigations include the social complexities of race, the vernacular art of the black church, as well as the indelible expressions of Black life.
Increasingly, language has crept into my artwork...in the form of words, poems, and written reflections. It is a source of endless inquiry. The weight of a single word on a page can be enough to crush me. I am excited about continuing to explore the visual and poetic possibilities of stories, words and objects through the art of letterpress printing.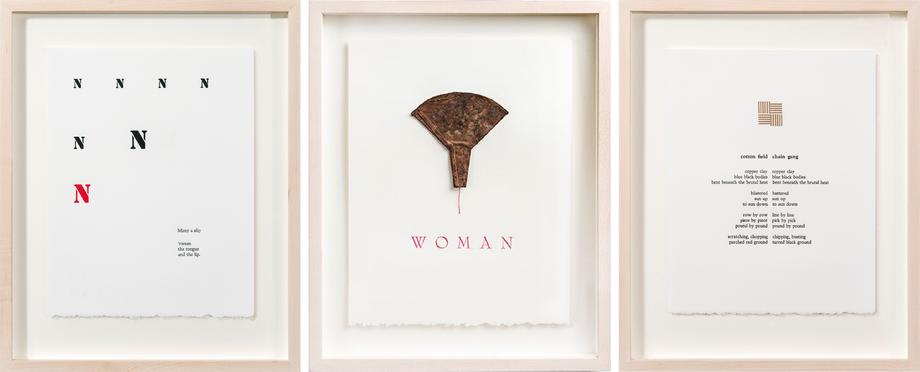 Story and photos by Alan Piñon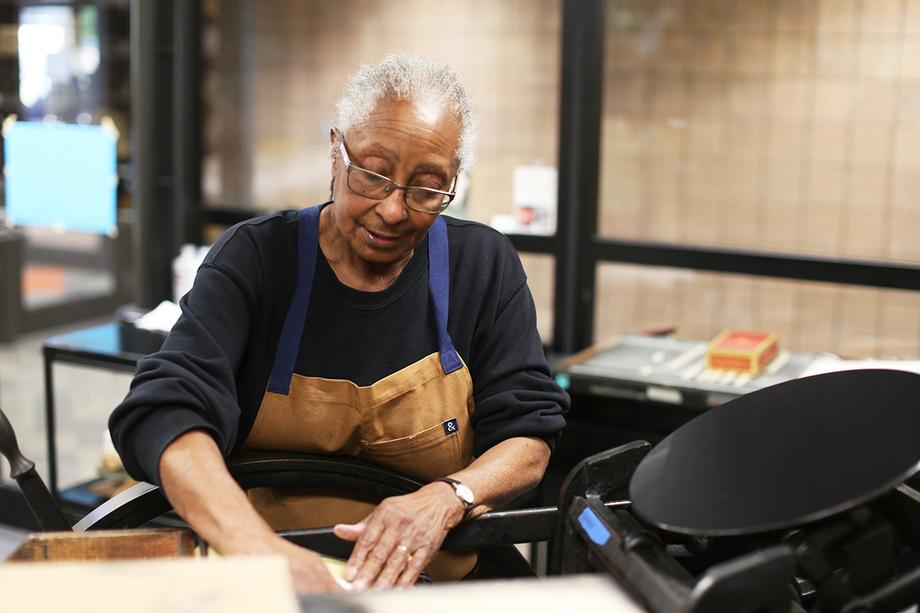 Share
Stay in the know