A chance discovery, decades in the making
May 6, 2021
Last fall, Sergio Palencia Frener, a Guatemalan sociologist and doctoral candidate in anthropology at the CUNY Graduate Center, stumbled on a handful of photographs  — of a church, a central square, and the cold and misty mountains of a town nestled deep in the deep green highlands of Central America — that directly related to his research.
He'd come across the images of Nebaj, Guatemala, the Ixl Mayan town he'd been studying, after taking a workshop at CUNY that highlighted online resources such as the Digital Public Library of America.
That platform serves as a gateway to digital materials from museums, libraries, archives, and other cultural institutions across the country, including the Michigan Service Hub that includes the U-M Library's Digital Collections — where Nebaj and its mountains were waiting to be found. 
Origin of the photos
Before their discovery, the images had been on a journey begun almost 3,000 miles away and 80 years earlier in the 1940s when University of Michigan Professor of Zoology, Laurence "Larry" Stuart visited the area for his scientific work in herpetology and biogeography — the study, respectively, of reptiles and amphibians and the geographic distribution of plants and animals. 
The Nebaj buildings and surrounding landscape photographs were supplemental to Stuart's work, almost an afterthought in his study of the reptiles and amphibians in the area.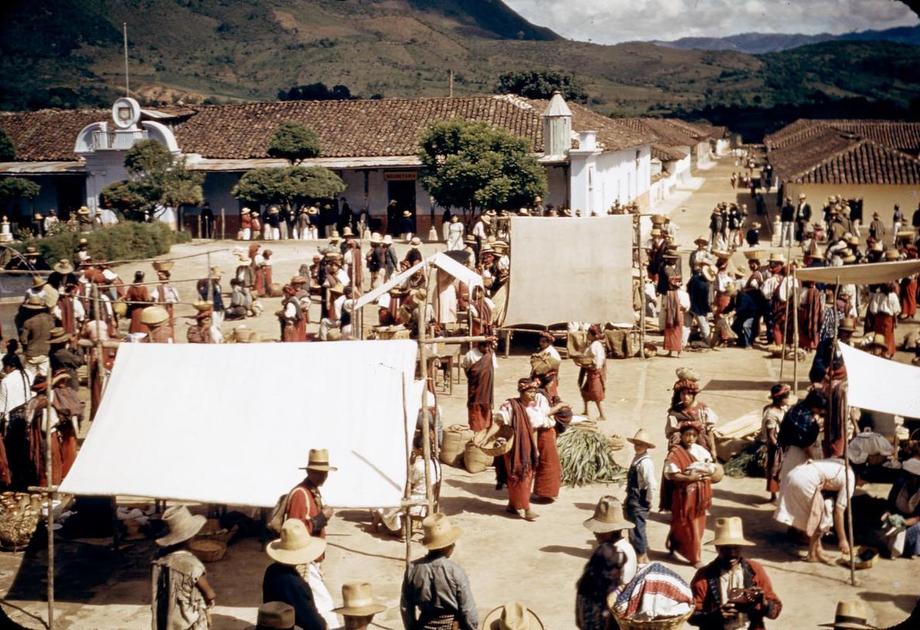 Remarkably, Stuart's photos and field notebooks, which Stuart's daughter, Alexa Connor, had donated to the Museum of Zoology, arrived at their final digital destination just weeks before Palencia Frener found them. His discovery was enabled by the dedication and hard work of Greg Schneider, collections manager of LSA's Museum of Zoology, along with Rich Adler, coordinator of the Michigan Service Hub, and Rob McIntyre, digital asset management consultant for the library.
One of many digital collection partnerships
This often unseen partnership between the library and the Museum of Zoology is just one of many that furthers the library's quest to advance scholarship across campus and around the world. 
As Lauren Havens, the library's project manager for Digital Collections points out, this work is "often invisible because of the digital aspect of our work. Seeing this reassurance that our work is not in vain is incredible, especially as 2020, the year of darkness, has come to a close."  
Expanding access through digital means  
With physical collections closed or providing limited access to scholars during the pandemic, the benefits of digital access has in practice become key to continue moving scholarship forward. 
"The first time I saw L.C. Stuart's Nebaj photo, I thought of the enormous changes this town endured between 1940 and 2020, a period of almost one hundred years," said Palencia Frener, who also teaches at Baruch College in New York. 
"I've done fieldwork in this Maya town for several years, and found Stuart's photo important to imagine the town during the beginning of political and economic turmoil, between 1936 and 1982. I'm sure that [these] photos, notes, and reflections will be important for people in Guatemala and the neighboring countries."
by MaryAnn Stock
Share
Stay in the know